From Classic to Contemporary, we specialize in concierge art consulting services to help you create a space unique to you. Tell us about the atmosphere you want to create, and we will present a variety of artworks for your consideration.
We provide an array of art services including:
Art Advising & Consultations

Custom Frame Design

Concierge Pickup & Delivery

Full-Service Art Installation

Extensive Referral Service for Designers, Fabricatiors, & Artists
Just bring us your project, and we can bring it to fruition. From picking the artwork, creating the custom frames, and even handling the installation, we are ready and experienced at everything you might need.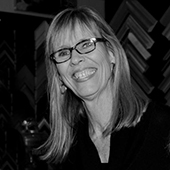 LESLIE CURRAN
has been a custom frame designer for over 30 years and is known in the area for her unique design perspective and innovation in the field. A lifelong resident, Leslie has worked tirelessly to make a difference in St Petersburg. As a former City Council member, she has served as a downtown pioneer and business leader. She currently serves as President of the
EDGE Business District Association
and is a representative on the
Central Avenue Council
.


To learn more about how our team of art specialists can help you, we invite you to visit our showroom in St. Petersburg or schedule a home consultation.